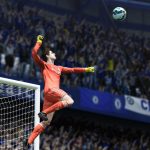 ---
What Songs Should be Included in FIFA 17 Soundtrack?
Not much left until FIFA 17 will be released and FIFA fans are chatting about the upcoming game actively. One of the most important factors in every FIFA game is its soundtrack. More than 40 new songs were added by EA in FIFA 16 so we are expecting something new in FIFA 17 too.
We checked various gaming forums and online communities and compiled a list of songs that would be excellent for the FIFA 17. Let's take a look!
1. The Weekend – Can't Feel My Face
2. Tinie Tempah – Written In The Stars ft. Eric Turner
3. Major Lazer & DJ Snake – Lean On (feat. MØ)
4. Fall Out Boy – Centuries
5. Thomas Rhett – Die A Happy Man
6. Panic! at the Disco- Hallelujah
7. Daughtry – Waiting For Superman
8. Foster The People – Pumped Up Kicks
9. Fall Out Boy – Thanks For The Memories
10. Calvin Harris & Disciples – How Deep Is Your Love
11. All Time Low – Kids In The Dark
12. Echosmith – Cool Kids
13. Nelly – The Fix
14. Simple Plan – Last One Standing
That's the list of songs that FIFA fans would like to hear being played in the game. But how about the songs that you would like to hear in FIFA 17? Don't hesitate, share songs you want EA to include in FIFA 17 – write them down in our comments section!
Post the song title and the artist or even better – share YouTube link of that song. We will arrange the complete song list and send it to the official FIFA 17 development team!