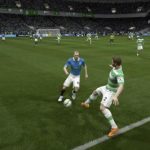 ---
Best FIFA Player Signed with German Club Wolfsburg
David Bytheway is not a professional football player. He has been a professional FIFA player since he was seventeen and already represented his country England in the last year's FIFA Interactive World Cup. David travelled half of the world to prove that he is the best FIFA player.
22 year old FIFA player never wondered that he might play for an actual club but now he is one of the two professional FIFA players in German club Wolfsburg. Wearing the club jersey, David will stream his games online and play tournaments.
During his interview with BBC David expressed his amazement and how important for him is to be involved: "It's absolutely massive for me the fact that a team like Wolfsburg have gotten involved with gaming. It was just something I was doing at home to start with, just playing my friends and wanting to be the best out of them, and all of a sudden I'm a part of a football club."
We know that you are thinking – why a professional club is signing video games player? David himself believes that this is the beginning of e-sport revolution. As an employee of the club he will help to promote the club and the FIFA game.