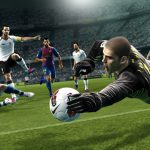 ---
FIFA 17 Will be Available in Nintendo NX, Nintendo Leak Confirms
Seemingly leaked Nintendo console caused tons of rumors circling all over the Internet. Even though there is not much evidence to approve them, some of those are supported by well-known personalities in the gaming industry.
Rumors spread quickly, and sometimes they change quickly as well. For example, firstly, leak appeared that Nintendo NX will have 8 GB of RAM but now fresh rumors say that Nintendo NX will have even more – 12 gigabytes of RAM.
Another popular rumor is regarding to the game ports. It is said that at least four additional Wii U Ports will be in Nintendo NX console.
The last and most awaited rumor for all FIFA fans is that some of the games being worked for Nintendo NX are leaded. And yes, FIFA 17 belongs to that team. EA Sports have already been informed and their developers' team is looking into it. This may mean that EA will "break up" with older Nintendo Consoles.
Some of the other games that also leaked for Nintendo NX are: Dragon Quest, Battlefield 5, Deus Ex Mankind Divided, Super Mario, Mass Effect and Zelda.
Tell us what you think, would you use Nintendo NX console to play FIFA 17?