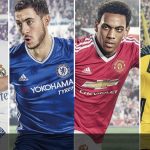 ---
FIFA 17 Trailer: New Story Mode in the Game
Peter Moore, EA Sports' chief operating officer, introduced new story mode during EA's E3 press conference. He said that in FIFA 17's The Journey story mode we will "live in real football worlds and meet characters full of depth and animation". Peter Moore also revealed that Premier League managers will appear in the FIFA game for the very first time. In total, FIFA 17 will have 4 managers, containing Manchester United's Jose Mourinho and Arsenal's Arsène Wenger.
Trailer for the upcoming FIFA 17 has been released recently by EA. It shows the new feature – story mode which features the main character Alex Hunter in his way into the English Premier League. Few of the scenes show Alex Hunter standing in the locker room before a game, meeting managers and looking at expensive living areas. You can also see some other characters that made appearances in the trailer of FIFA 17. And there is some soccer also.
There will be even more news about the upcoming FIFA 17 after EA's E3 press conference is held. You can watch EA's E3 2016 press conference here. If you wish, you can also check EA E3 2016 Press Conference Liveblog. More E3 coverage on the latest news, interviews and overall impressions could be found in the E3 event hub.